Last week we closed on our new loan for our current home. That's right. After only a year of living in our house, we decided to refinance. 
As you may recall we purchased and closed on our home in August of 2018. It was a pretty smooth process but I found out some hidden costs of buying a house.
Thankfully, the process of refinancing was much easier and everything was silky smooth. Sure, it probably helped that not much has changed since we bought the home last year—we're still at the same jobs and everything—but I was still worried that we'd run into some roadblocks or high costs.

Even with the fear that more unexpected expenses would come up, we made the jump to refinance anyway.
Here are four reasons why we decided to refinance.
1. Income Might Not Be Steady in the Near Future
At the end of January next year, I'm not sure what my income is going to be like. The plan is to take my finance business full time early next year. 
I am PUMPED! But I'm also a little nervous. We're preparing as much as we can for that day and making sure all our needs are taken care of in a worst-case scenario. 
Deciding to refinance was part of that preparation.
Mortgage lenders like to see steady income in order to give you a loan, even if you already have a loan with them. So like any usual mortgage, we needed to provide last year's W2's, our two most recent pay stubs, and our two most recent bank statements. 
Seeing the steady income made the loan process easy and there is no way it would have been so easy with an unpredictable startup income.
We also wanted to lower our payments. To make sure we were going to be able to make ends meet in a worst-case scenario, we needed to make sure our bills were as low as possible. Refinancing is saving us just under $84 a month.
Boom! Every little bit helps.
2. Interest Rates Are Super Low
Mortgage interest rates are back to the lowest they've been in years right now.
Back in 2012 when we bought our first home, interest rates were rock bottom thanks to the Federal Reserve lowering interest to help build the recession-battered economy back up. Our loan at the time came with an interest rate of 3.375%. 
When we bought our new home in 2018, rates were higher and our official loan interest rate was 4.25% after a special .25% rate reduction the bank was running at the time.
When I found out rates were low again, I emailed my mortgage lender that same day. He ran the numbers and we were able to lock in a 3.625% interest rate.
Now, it may seem like 3.625% isn't much lower than 4.25%. If we were talking about sales tax, it isn't a big difference. But over the life of a 30-year loan, that's a significant savings of money!
If we carried out our initial loan at 4.25% for the full 30 years, we would have paid $178,097.21 in interest. With our new 3.625% rate, we'll end up paying $148,252.26. 
That's a $30,000 difference! This is something Ramit Sethi would call a "big win."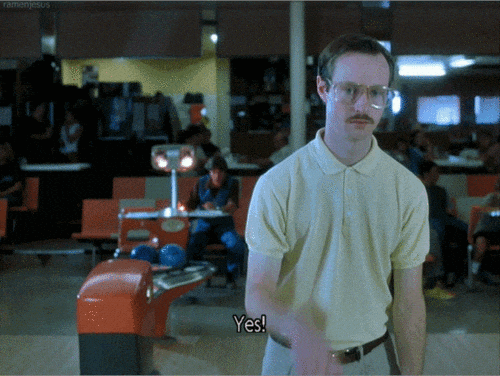 3. Our Payment is Lower
I touched on this briefly in the first reason, but I'm really excited that our payment is lower!
Our monthly payment is now only about $200 more than our payment at the old house. That's a huge win for me because that $200 per month gets us quite a bit. Our new house has:
400 square feet more than our old house
A full, finished basement
The washer and dryer in the basement (This is exciting because it was in our kitchen in the old house)
A pool
A master bathroom (I don't have to share with my two little girls anymore! *happy tears*)
While the $84 we're saving per month isn't quite what I was hoping for—*cough*$500*cough*—it is a lot more in line with what would be considered realistic.
It also puts us in a better position planning for the worst-case scenario (i.e. no business income for a bit).
Regardless, it's always nice to have a little extra cash in your money management system, whether it's for some extra saving, spending, debt payoff, or even just a little breathing room.
4. We Got to "Skip" Two Mortgage Payments
With the way the new loan worked out, we didn't have to pay our mortgage payment in October or November. Our first payment on the new loan isn't till December!
Woot woot!
What was nice about this situation is that we were able to use the money we set aside for our October mortgage payment to completely cover the closing costs for the new loan.
That was big in my opinion because I wasn't sure what closing costs would be when I first reached out to my mortgage lender. I didn't know if it would even be worth it to refinance at the time. 
The money we would normally have for our November mortgage payment is going to be used to pay off an interest-free credit card that we were paying $150 a month on.
That's another chunk of monthly money that we get to keep in our pockets to help mitigate the risk of me losing my income completely. That's another huge win for us.
I always enjoy kicking some unnecessary debt to the curb!

Definitely Worth It for Us
With the mortgage being $84 less and paying off the credit card with our "skipped" November mortgage, we're saving $234 a month on our bills.
And to be honest, the whole process was much easier than I was anticipating. My mortgage lender came to my house for closing, we didn't need to involve our realtor or lawyer, and we didn't need as many documents for the application. 
Will I ever refinance again? I don't think so. We plan on being in this house for many years and rates on a 30-year fixed-rate mortgage won't continue to be that low. The only way I'd ever refinance is to get a really low rate on a 15-year loan.
If nothing else, my next step after I get my business up and running is to treat my 30-year mortgage like a 15-year mortgage. 
The payments would be about $600 more a month but I'd be saving $80,000 in interest on our current loan. That's a lot of money!
If you have any questions about the process or are curious if refinancing would be a good move for your budget, feel free to shoot me an email and ask! I'd love to hear from you.